I seek a position as experienced Chief Officer.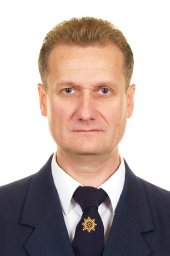 Information
Dear Sirs,
I seek a position as experienced Chief Officer. I worked on Schulte Group ships for more than 10 years. The last two contracts I worked on board of container vessel more then 5000 TEU in BSM Cyprus.
I have excellent technical and managerial skills and experience
within the Marine Industry, both at sea and on shore with professional
experience in safe ship operation, and business management.I was
previously at sea for 27 years gaining experience on Dry Cargo, Bulk
Carriers, Research Ships, Passenger, Ro-Pax, Multipurpose and
Containers; experienced in W.W. ship operations and navigation in heavy
ice conditions. After leaving the sea, was employed as a Head of Marine,
Cargo, Average and P&I Survey Department in "Baltik Kontor Klaipeda
Ltd."; "PANDI BALT Klaipeda", "DPS NETAS" from 01.1997 till 12.2004.
Exact position
Chief Officer