Urgently looking for a job as third officer/ D/C onboard tankers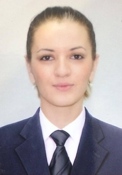 Information
My name is Teodorescu Dana-Lavinia and I currently looking for a position of Deck Cadet on tankers or Deck Officer on Container/Bulk Vessels.

I have already license and experience on Container Ships as a Third Officer, but in order to become Third Officer on Tankers I need a contract of minimum 3 months on board of a Tanker Vessel. During my career as Deck Officer I was in charge of watch-keeping ( two of the most challenging areas were China Sea and West African Coastal Waters) , supervision and maintenance of all safety equipment onboard, maintenance of the safety documentation (Safety Officer), safety trainings and recordings, port papers, ordering spare parts and services for safety equipment; cargo, ballast and mooring operations. Also As a Deck Cadet I had the experience of dry dock in Setubal, Portugal for one month, where I familiarised myself best with ship's plans and structure.
I am responsible, professional, well organised, dedicated to meet all deadlines and complete all projects on time, very good with technical data and work and a quick learner. Below I attached a recommendation letter from my previous agency which found itself unable to send female seafarers onboard of their ships because of the change of management. I have all the papers ready(including the US Visas) and also I am ready to go onboard even on short notice.
Thank you for your attention and I look forward to hearing from you! Have a nice day !
Exact position
3rd officer