I am looking for a job by 2-nd or 3-rd officer. In attachment You can find my updated application form. If You have some offer for me, please let me know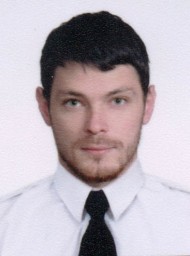 Information
Dear Sir or Madam.

I am looking for a job by 2-nd or 3-rd officer. In attachment You can find my updated application form. If You have some offer for me, please let me know.
With Kind regards
Dmitriy



PERSONAL DETAILS:

Kryvychenko Dmytro

Adress Ukraine. Mariupol

Tel. (mobile): 380970058988

e-mail: kryvychenko.dmitriy@gmail.com

Date of birth: 02.12.1988

Marital status: married

Children: yes



EDUCATION:

2007 - 2013 Graduated from the Azov maritime Institute of Odessa National maritime academy.

NAVIGATOR – Officer in charge of a navigational watch on ships of 500 gross tonnage or more



WORK EXPIRIENCE :

2006 - 2013, bulk carriers,

2013 – 2017, AHT's

The key points of my working experience are: maintenance of safety on board according to SMS and HSE requirements, operating of GMDSS equipment, maintenance of LSA, Fi-Fi equipment and looking after company/clients' property.



Ready to consider any options, including options with a demotion by the Merchant fleet to the position of Third Mate, Junior or Deck Mate/AB/Cadet


I hope that my employment background and education suit to a challenge job in your company where I can apply my knowledge and experience to obtain strong results.



Kindly see attached CV to find details of my employment background, work experience and education.

All my conventional certificates /documents are valid and I will provide the scans on your request

Please contact me any time



Best regards.
Exact position
2nd officer