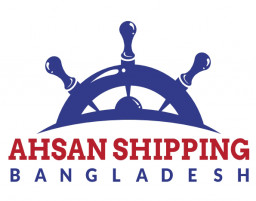 Address:
110, Abdul Latif Market (1st floor)
We are pleased to you introduce our self we are Ahsan shipping we provide all kinds of marine service provider & Ship spare parts exporter at Chittagong & Mongla port. our all team are committed that our quality and commitment comes first. We always try Best quality products within competitive prices and delivery on time. We are located near in port and have clients all over the world. We do business this arena since 1990. If you have any requirements at present in your hand please advis
More

Address:
110 Abdul Latif market (3rd floor) Fakirhat by lane, Bandar, Chittagong-4100, Bangladesh.
Dear All, Good day to you We are pleased to introduce ourselves as one of the leading maritime service provider in Chittagong, Mongla & Payra Port in Bangladesh.Our company was established in 2007.We supplies all kinds of ship's equipment and spare parts worldwide with quality and reliable delivery in the most economical manner. We are associated with a young strong dynamic and influential groups in Bangladesh. The companies under the Classic Ship Services provide the following Services:- (World
More
Address:
: Akmal Tower,3rd Floor, Sk Mujib Road, Choumuhoni, Agrabad-4100 Chittagong
Dear Sir/Mam, Good day. Certainly, We (ATLANTIC MARINE SERVICES) are a reputed ship chandler here at Chittagong Port & Mongla Port, Bangladesh. we always concern about your satisfactory business & we do make business relationship with satisfactory fact of your vessel's requirements. For your kind consideration, we've given below our maritime service categories. Kindly see as follows. ØMaritime Supply Service Categories: All kinds of Spare Parts of Main Engine, Auxiliary Engine, Turbo Cha
More
Address:
LIANYUNGANG ROAD 228,SAIFUTE COMMUNITY, SHIJIU,DONGGANG DISTRICT,RIZHAO
Rizhao CSSS OCEAN SHIPPING SUPPLY CO LTD is a shipping supplier specialized in providing shipping materials,seamen's food and duty-free articles for both Chinese and foreign ships it is the members of the HACCP corporation. Its Business Scope: supplying PROVISION INCLUDING: cereals and oils, foodstuffs, non-staple food, aquatic products, livestock products, articles of arts and crafts shipping materials, machine ports, knit goods and textiles, articles for everyday use, hardwares and
More
Address:
jl.bandarejo 4 gg asri no 5 surabaya indonesia
We are from Cv Asindo Ship Chandler is located in Surabaya Indonesia Our company is major in wholesale business of ship supply and marine service . Our products are in accordance with the standard of IMPA and ISSA. like. provision, engine store, deck & cabin store, safety equipment, medicine, lube oil, ship repair, marine fuel, B-A charts, Rewind electro motor of dynamo, Refilling cylinders bottles of Oxygen, Acytilene, Freon, Annual inspections of Liferaft, Fire extinguisher, EEBD,SCBA, CO2 sys
More
Address:
P O Box 1166, Al-Tawahi, Aden, Yemen
Address:
Sabson Shipping Agency, Bajersh Building, Bajaman Street, Mukalla 8901, Yemen
Address:
Natship Building, P O Box 1439, Steamer Point, Tawahi, Aden, Yemen
Address:
4000 Estate Diamond, Christiansted, St. Croix 00820, Virgin Islands, American
Please Log in to see this content!