Reliquefaction technology
MAN B&W ME-C series for LNG Carriers. Reliquefaction technology
While reliquefaction is widely used in gas handling on land, it has been used on board ship so far only on LNG carriers.
Recently, the technology for reliquefying LNG on board ship has been matured and commercialised. The present analysis is based on the Moss Reliquefaction, sold worldwide by Hamworthy KSE.
The patented system (Moss RS) for reliquefying boil-off gas, establishes a solution for pumping LNG back to the tanks and selling more LNG to the buyers of gas.
The boil-off gas reliquefaction concept is based on a closed nitrogen cycle extracting heat from the boil-off gas. Several novel features such as separation and removal of incondensable components have resulted in a compact system with low power consumption.
The concept has the following technical merits:
The nitrogen in the LNG boil-off gas (BOG) is not reliquefied; this results in reduced nitrogen in the tanks during the voyage, better control of tank pressure and lower power requirement for the RS system.The system uses only proven components with extensive references from air-separation and peak-shaving plants world-wide.The system is prefabricated on skids for easy installation and hook-up.The system has automatic capacity control.The system can be stopped when the cargo pumps are in operation. This eliminates the need for extra generator capacity.During ballast voyage, the cargo tank temperature can be maintained by spraying reliquefied LNG back into the cargo tanks.The system must be installed with 100% redundancy.No extra personnel are required for operation and maintenance.
The process can be described as follows.
The LNG boil-off os compressed by the low duty (LD) compressor (BOG compressor), and sent directly to the so-called cold box.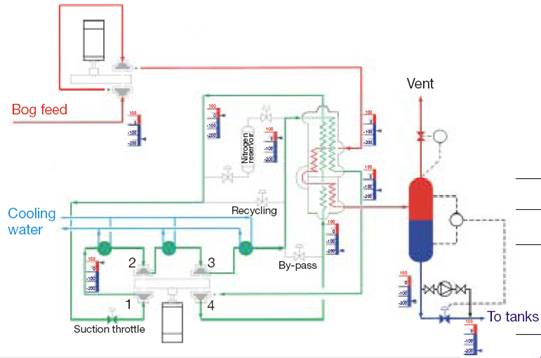 The cold box in which the boil-off is reliquefied is cooled by a closed refrigeration loop (Brayton cycle). Nitrogen is the working medium. Fig. 2 shows the standard Moss RS reliquefaction system.
Fig. 2. Standard Moss RS reliquefaction system.