LNG carrier propulsion by ME engines
MAN B&W ME-C series for LNG Carriers. LNG carrier propulsion by ME engines
LNG carriers represent the last stand for the – in all other markets – practically extinct marine steam turbines. With efficiencies of only about 30%, versus the diesel engines' more than 50%, and in combined systems even higher, diesel engines are the propulsion system of choice in the marine industry.
This reason for the dominance of the diesel engines is clearly demonstrated in Fig. 1, showing the thermal efficiency of the various prime movers.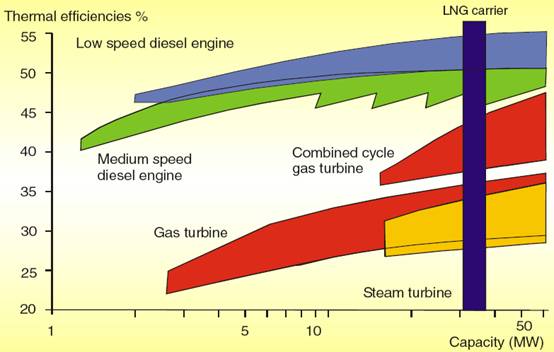 Fig. 1. Typical  thermal efficiencies of prime movers
As shown, steam turbine propulsion plants generally have a low efficiency and therefore need far more input energy than modern, fuel efficient diesel engines. With efficiency and CO2 emission being largely inversely proportional, MAN B&W is proposing alternative propulsion concepts based on low speed diesel engines with electronic control for modern LNG tankers.
HFO burning fuel efficient Low Speed two-stroke diesel engines in single or twin propeller configuration, in combination with the reliquefaction of the Boil Off Gas (BOG), offer economic benefits for those trades where loss, i.e. consumption of cargo, is not accepted and the supply of the full amount of cargo is honoured.
However, LNG carriers are expensive ships, and the contractual supply of cargo is usually tied by strict charterparty conditions. Therefore, the market has been hesitant to look at and accept other propulsion systems.
Now this has changed. With the market launch of electronically controlled low speed diesels and reliable independent reliquefaction technology, all the traditional reasons not to leave the steam turbine have become invalid.
It must also be realised that manning of steam driven commercial vessels will be increasingly difficult because of the phasing out of marine steam turbines.
The purpose of this article is to demonstrate by comparison that the LNG transport industry can benefit greatly in terms of US$ saving by changing to electronically controlled low speed diesels while, at the same time, contributing to a better environment by significantly reducing CO2 emission. The overall conclusion is that more than US$ 3 million is lost every year through the funnel of every steam driven LNG carrier.