Main components
MAN B&W Alpha Lubricator System. Main components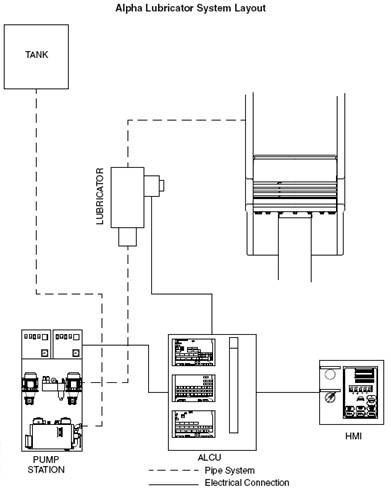 1. Pump station and starter panels
The pump station consists of two individually operating pumps, heating coil, filters and a suction tank. The power supply to the pump station starter panels is taken from two separate circuit breakers, one supplying each pump.
2. Lubricator units
The lubricator units, one for each cylinder, each comprise two lubricators for 98-70 bore engines and one lubricator for medium and small bore engines. Each lubricator unit is equipped with one accumulator with nitrogen pre-pressure of 25-30 bar on the inlet side, and one accumulator on the outlet side of each lubricator, with nitrogen pre-pressure of 1,5 bar.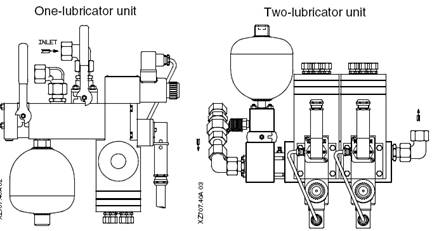 Each lubricator features 3,4,5, or 6 lubricating pistons, depending on engine type, a feedback pickup and a solenoid valve.
3. Alpha lubricator control unit – ALCU
The three main electronic components for controlling the lubricating oil are comprised in one steel cabinet – the so-called ALCU unit.
The three units are: 
MCU (Master control unit)
BCU (Backup control unit)
SBU (Switch board unit)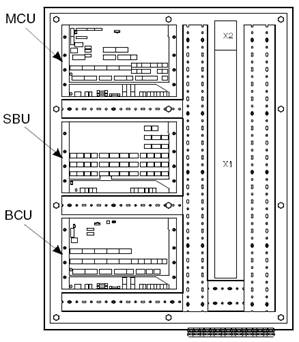 The 24 V DC power is supplied from two individual power sources, from different breakers in the UPS unit. Please note that some installations might be connected differently by the shipyard.
4. Load transmitter
The load transmitter is connected to the fuel rack, thereby continuously transmitting the fuel index % to the MCU, which calculates the engine load from this information and the detected engine rpm.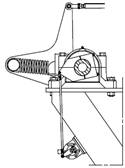 5. Trigger system (Shaft encoder)
The shaft encoder is connected to the fore end of the crankshaft, and the signals are transmitted to the computer panels via a terminal box. For engines on which the crankshaft fore end is not available for angle encoder installation, a trigger ring and tacho pickups are installed at the turning wheel.

6. Backup trigger system
The backup trigger system comprises two tacho pickups in a box at the turning wheel, thereby transmitting the engine rpm to the BCU. The backup pickups are also connected to the MCU for surveillance purposes.

7. Human Machine Interface (HMI) panel
On the HMI panel, individual cylinder lubrication adjustment is possible, various values and alarms are displayed, control buttons for the pump station are available, and manual execution of pre-lubrication is possible.
As standard the HMI-panel is mounted in the engine control room.