Propeller shaft and coupling flange
MAN B&W Controllable pitch propeller. Propeller shaft and coupling flange
The tail shaft is made of forged steel normalized and stress relieved.
The tail shaft is hollow-bored, housing either a pitch control rod or piping for pitch adjustment.
Coupling flange
A two-parted coupling flange is clamped on to the propeller shaft for flange diameters up to 475 mm. For couplings with flange diameters above 475 mm a special shrink fitted mounting is used, fig. 11. High pressure oil of more than 2,000 bar is injected between the muff and the coupling flange by means of the injectors. By increasing the pressure in the annular space C, with the hydraulic pump, the muff is gradually pushed up the cone.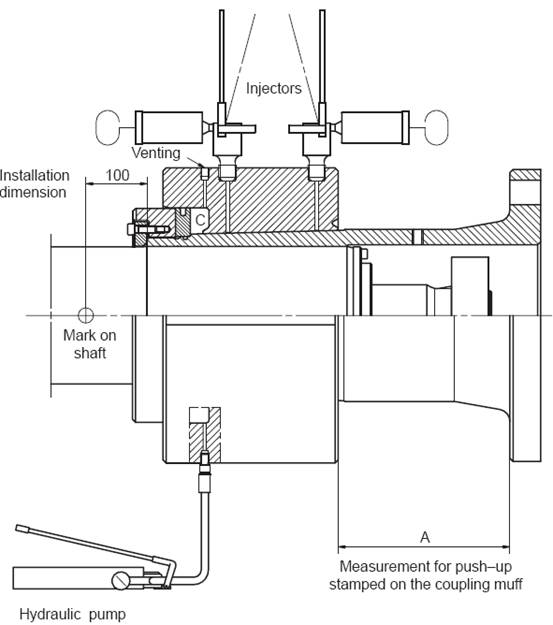 Fig. 11. Shrink fitted coupling flange
Longitudinal placing of the coupling flange as well as final push-up of the muff are marked on the shaft and the muff.
Stern tube
The standard stern tube is designed to be installed from aft and is bolted to the stern frame boss, fig. 12.
The forward end of the stern tube is supported by the welding ring. The oil box and the forward shaft seal are bolted onto the welding ring. This design allows thermal expansion/contraction of the stern tube and decreases the necessity for close tolerances of the stern tube installation length.


Fig. 12. Standard stern tube - VBS
Normally the stern tube and the welding ring are supplied with 5 mm machining allowance for yard finishing.
The stern tube and welding ring can be supplied machined and finished, if required.
As an option the stern tube can be installed with epoxy resin.
Liners 
The stern tube is provided with forward and aft white-metal liners, fig. 13.



Fig. 13. Stern tube white metal liners
Sensors for bearing temperature can be mounted, if required.
A thermometer for the forward bearing is standard.
Seals
As standard, the stern tube is provided with forward and after stern tube seals of the lip ring type having three lip rings in the after seal and two lip rings in the forward seal, fig. 14.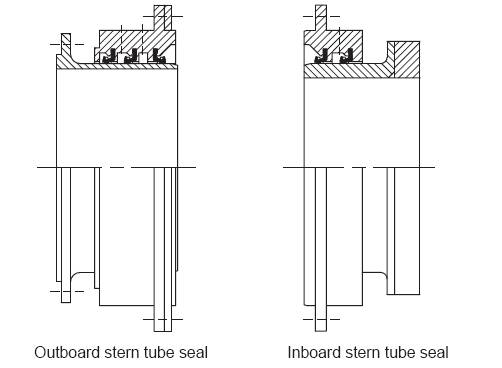 Fig. 14. Stern tube seals