Propeller equipment
MAN B&W Controllable pitch propeller. Propeller equipment
The standard propeller equipment comprises a four-bladed CP propeller complete with shafting, stern tube, outer and inboard seals, oil distributor and coupling flange.
The location of the hydraulic servo motor for controlling the pitch will depend on size and utilization of the propeller equipment.
Propeller type VB
For propellers coupled to the MAN B&W Alpha gearbox the hydraulic servo motor is located in the gearbox controlling propeller pitch via a pitch control rod, fig. 2.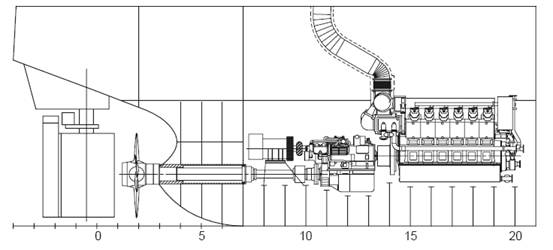 Fig. 2. Propeller equipment type VB
Propeller type VBS 
When using propeller hub diameters of 740 mm or larger, the hydraulic servo motor can be placed in the hub, fig 3. 



Fig. 3. Propeller equipment type VBS
The system is featuring large servo piston diameter with low oil pressure and reacting forces, few components and reduction of overall installation length.
Oil distributor
For the VBS propeller equipment the oil distributor for the hydraulic servo motor can either be shaft mounted or mounted at the front end of the gear-box.