Maintainability and increased propulsion availability
MAN B&W Auxiliary Propulsion System. Maintainability and increased propulsion availability
Maintainability
Reduce the maintenance-stress at sort stay in harbour
Punctuality, short stays in harbour and scheduled maintenance of the main engine must form a synthesis with the ship's charter. During the stay at quayside, overhaul and maintenance work can be carried out without delaying the scheduled departure.
Increased propulsion availability
Necessary main engine immobilization or shut downs for, longer lasting scheduled checks and inspections can alternatively be dealt with at sea at reduced speed without off-hire jeopardizing the ship's trading schedule or charter.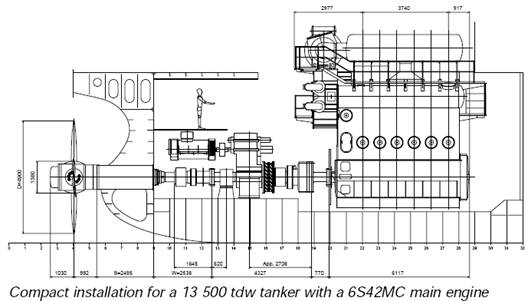 Sailing in confined waters
The MAN B&W AP System makes it possible for the crew to operate safely reduced speed in channels, rivers and straits and simultaneously nurse the main engine or related auxiliary equipment.
Boost the propulsion power
As a measure for observing the ship's transportation schedules, the auxiliary propulsion system can be supplied with the possibility to boost electrical power to the propeller, in addition to the main engine power and hence increase the ship's speed when necessary.
The Alpha Clutcher is for all ship types
Both safety and economy will benefit from concept and it makes the MAN B&W AP System an obvious choice for many ship types equipped with low-speed two-stroke main engines and CP Propellers.