Advantageous auxiliary propulsion power
MAN B&W Auxiliary Propulsion System. Advantageous auxiliary propulsion power
Increase the safety for the crew as well as for the ship
In case of a failure causing loss of main propulsion power, the MAN B&W AP System secures the course and manoeuvring as well as safe navigation at reduced speed to the nearest harbour. From the bridge panel the main engine is stopped and the Alpha Clutcher is clutched out enabling the propeller to be driven by the PTI-motor on the tunnel gear. Propulsion power is retained and the ship has regained its steering capability at a service speed of at least seven knots. Under adverse weather conditions the ship can maintain its position until the weather conditions improve or assistance has arrived.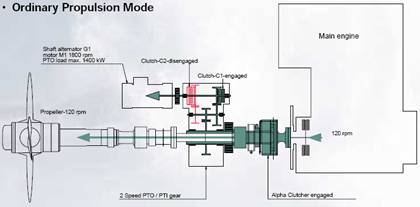 Reduce the tug related harbour fees
As a safety precautions, harbour authorities often demand stand-by harbour tugs alongside ships when loading/discharging critical cargoes. The propulsion system must be ready for take-away operation and consequently overhaul of main engine and its auxiliary systems and equipment is not allowed. With the auxiliary propulsion system in take-away mode ready for take-off, the ship fulfils the demands of the authorities and can eliminate the costs for stand-by tugs when immobilizing the main engine.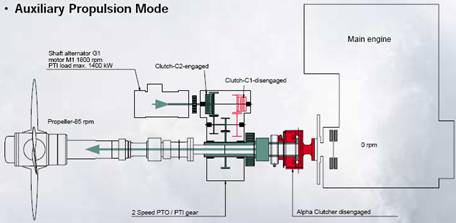 Reduce the insurance premium
In comparing two ships – one supplied with the MAN B&W AP System and one without – the risk-scenario for the ship supplied with the system is clearly better and thus directly triggering a positive effect when fixing the ship's insurance premium.
Alpha Clutcher Alternative
For ships types where considerable electrical power is essential during stays in harbour, the clutch can be located on the aft side of the tunnel gear to enable clutching out of the propeller from the engine and use the main engine as power source for the shaft alternator in PTO-mode supplying power for large cargo pumps etc.