Separators- Starting, stopping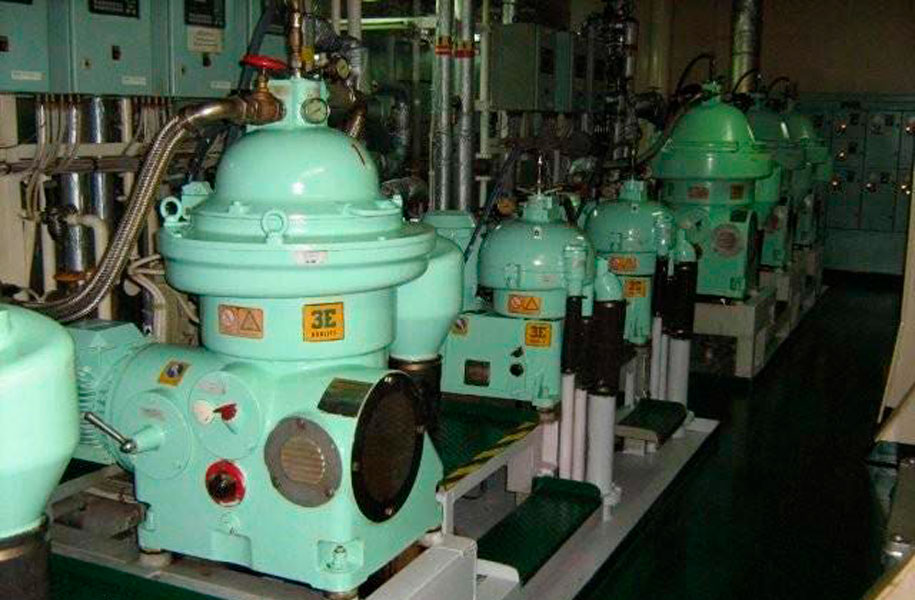 A high speed centrifuge is a type of separator which is used on ships to remove contamination from liquids such as fuel and lube oils.
It is imperative to carry out the purification treatment of oils used on ships in order to remove solid impurities and waterbefore they are supplied to the main engine.
In almost all types of ships, the purifier comes with auto operation feature, wherein all the valves are solenoid controlled and the operation is electronically controlled (including the de-sludge operation).
However, if the auto system fails, you must know how to start a purifier/clarifier manually.
STARTING
Check if the brake of the purifier is in release position Check the oil level in the gear case Open the discharge valve for the purifier and all the required valves in the discharge line Start the purifier power and check for the motor current Initially, the current will shoot up and then will come back to the rated value, which means that the required RPM has been achieved Start the fuel oil supply pump (if provided) and recirculate the oil from the heater Open the steam valve to the heater and maintain the oil temperature as required Check the level of operating the water tank (if provided) Open the operating water valve and wait till the bowl is closed (indicated by water coming out from the sludge side) As soon as the bowl is closed, open the sealing water valve located on top of the purifier As soon as the water comes from the oil side, shut the sealing water Open the fuel oil inlet to the purifier from the heater; the water will come from the sludge side. This means that the oil is displacing the sealing water inside the separator Check the temperature and adjust the heating steam to the heater Check the back pressure and control it from the back pressure valve on the discharge side Maintain flow rate as stated in the manual
"When an unusually large vibration or sound occurs in the purifier, immediately stop the power to the purifier and when it is completely stopped, open and inspect."
STOPPING
Stop the oil supply to the purifier by closing the oil inlet valve (a 3-way valve where closing of oil inlet opens the recirculation to the heater) Stop the supply pump (in attached pump, closing of oil inlet valve will recirculate the oil through heater) Stop the heater by closing the steam inlet valve Open the sealing water valve for a short duration just to displace the oil left inside the separator The sealing water will displace the oil into the oil outlet, and hence avoid wastage of oil Close the operating water valve Open the de-sludge water valve which is at a higher pressure This will open the bowl and all the sludge will be discharged through sludge ports in to the sludge tank If purifier needs to be operated continuously, follow the starting procedure or else stop the power to the purifier
"The purifier should be operated under optimum condition to suit the nature of the treated oil. Applicable flow rate, pressure and temperature are subjected to given limits depending on the type and specification of the purifier."
References
The Ultimate Guide to Operating Procedures of Engine Room Machinery. Anish Wankhede [2014]