In early April, a ship successfully loaded two large construction units and accompanying accessories in the Port of Tallinn, Estonia. The two large and heavy components were weighing approximately 159 and 214 metric tons, respectively. Cases and crates with accessories accounted for a total weight of about 50 metric tons.
M/V BBC Pearl arrived at Vene-Balti Port in the Western part of Tallinn in the evening of 7th April and shortly after berthing, preparations for the cargo operations commenced. Weather forecasts for the following day had promised to be sunny and calm, giving perfect condi-tions to load the first large unit, an operation which was completed in the course of the day. The second unit was loaded two days later after a low-pressure area had passed. M/V BBC PEARL eventually left Tallinn on 11th of April and arrived in Cape Town on 8 May.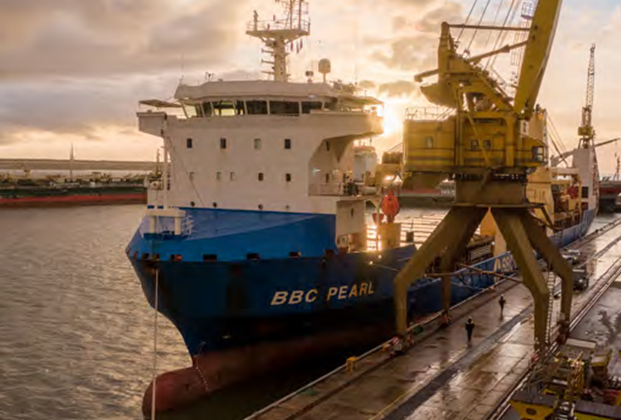 Following the arrival and discharge of the units onto SPMTs (SPMT = Self-propelled module transporter) in Cape Town, the two units for the Launch and Recovery System (LARS) will be assembled on the deck of Debmarine Namibia's new-building AMV3, which is to become the largest and most technologically advanced diamond recovery vessel in the world and will operate off the coast of Namibia. It is at the same time the first custom-built vessel of its kind. The LARS will be used to launch and recover the 300-ton crawler from the AMV3 to the seabed. Debmarine Namibia is a partner-ship between the Government of Namibia and De Beers and has a reputation as a world leader in marine diamond explo-ration and mining technology.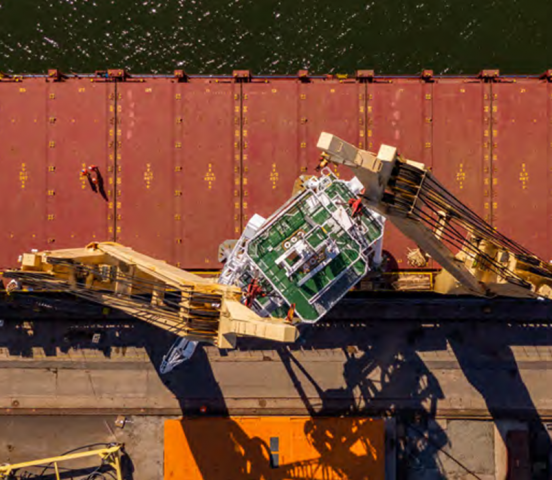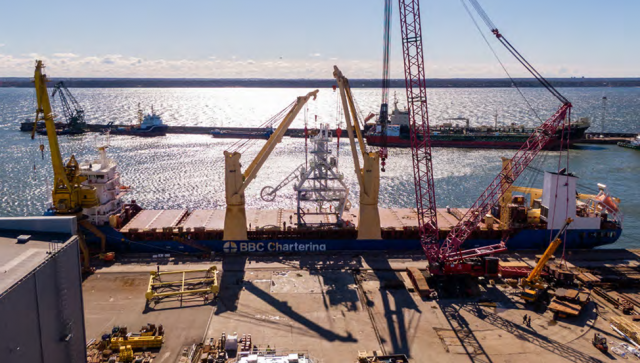 Such a transport obviously involves a multitude of parties.
The booking with BBC Chartering was placed by Swift World-wide Logistics through the BBC Bremen office, which had been working on this cargo for quite a while. As one can imagine, such a business does not materialize overnight. A close contact and good relations to the charterer is key to be able to finalize this kind of a deal. The loading operation in Tallinn was planned and closely attended by BBC's opera-tions and technical departments. In the port, BBC's agent, Tschudi Logistics, stood for smooth arrangements on site in close contact e.g. with the supplier Marketex Offshore Constructions in Kopli, Tallinn, who had manufactured the tower units to a design by AxTech from Norway.
BBC Chartering commissioned Sinisilm, a professional photo- and filming company from Tallinn, run by Marten Merila to capture the arrival of the vessel, the entire loading operation and the departure of M/V BBC PEARL with its "precious" cargo on board. Marten and his team delivered great photos (a selection of which we present with this article) and a video which you can check out on BBC Char-tering's video channel on vimeo: vimeo.com/544492345
Text: Marko Stampehl, Global Head of Marketing & Public Relations, BBC Chartering; Photos: Marten Merila/Sinisilm.ee for BBC Chartering