Section IV – Cargo and gear, lifting appliances
ILO 152
Lifting appliances (LA) and cargo gear are not part of any required class or statutory (Flag) rules. Anyway, the ship op-erator must ensure that the work on board with cargo gear and lifting appliances is safe for workers and crew according to the ILO (International Labour Organization) 152 conven-tion. A class surveyor acts as competent person for lifting appliances and cargo handling gear on behalf of the vessel's owner and insurance in order to confirm that equipment is in safe working order. This survey covers a thorough inspec-tion and load testing documented in Part I/II for ILO152 and Part IV/V for other lifting appliances.
Regular inspections of loose gears can be performed by a respon-sible person onboard and is normally not performed by class.
It is the ship's operator and crew responsibility to carry out / organize thorough periodic inspections and re-testing of all lifting appliances and loose gear according to the conven-tion. All works and any part of the work related to loading or unloading any ship as well as any work incidental thereto, which are defined by national law or practice have to be in accordance with the convention. Such local rules are for ex-ample known in Australia and India and have to be followed.
Shipboard lifting appliances are all stationary or mobile cargo-handling appliances used on shore or on board ship, including shore-based power-operated ramps, intended for load handling within and outside ships while in the harbour and within ships while at sea.
Each lifting appliance has its separate intended function, for examples:
loading and discharging of ships cargo and gantry cranes
handling of provision, store and spare parts, cargo hos-es, gangways engine room cranes, provision crane
handling of ramps and moveable cargo decks etc.
Loose gear covers any gear by means of which a load can be attached to a lifting appliance, but which does not form an integral part of the appliance or load – for example – hooks, blocks, shackles, swivels, rings, chains, claws, clamps, pliers, load fastening ropes (slings / strops), lifting straps, etc.
The standard Briese fleet cargo cranes and other lifting appliances thorough examination is normally scheduled as following:
Newbuilding – Initial load test and certification before leaving the shipyard
Annual (12 monthly) thorough examinations – conducted by class
Every five year a load test to be performed – normally by attending shore service company providing test-weight and a class surveyor to witness the test
After fundamental repairs / damages Five yearly load tests are commonly done by using water-bags as a test weight. Test procedure based in such cases is as following:
Organization of test weight via inspection department
Request of service company and surveyor – calculation test weight, agreement with surveyor about procedure
Service company provides water bags on board with technician
Preparation crane and rigging of waterbags and lifting to sufficient height (because of winch brake test with maximum test load)
Filling can take up to 24 hrs depending on pump/capacity
Crane position to max outreach for max capacity
Measuring of water density (normally Chief Officer duty)
Hoisting, lowering, slewing
Certification by class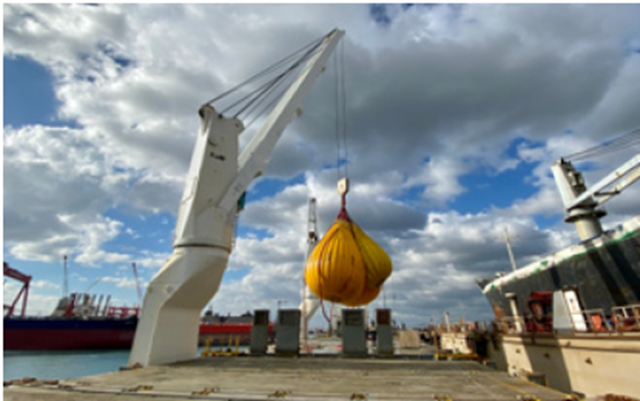 Important: In case an annual crane survey or load test can-not be performed until expiring date, please inform the re-sponsible inspection team before using the cranes for load-ing. The insurance must be informed in that case.
In conjunction with the examinations of the lifting appli-ances intervals for wire exchanges have been defined for example according to DNV as following:
Hoisting wire (runner) for hook – exchange 10 years (wire internal annual check after 5 years rigging)
Luffing wire (jib) – exchange 15 years (wire internal an-nual check after 5 years rigging)
AUX 1, 2, 3 hoisting wire (runner) for hook – exchange 10 year
All above details are just giving some basic information about the examination of lifting appliances and cargo han-dling gear. In case of specific questions related to the vessel the respective Inspection Group has to be contacted.