Rocking test procedure
Measurement instruction the Wear of Slewing bearing for Deck crane
General information
Following this instruction, slewing bearing rocking test should be done periodically for recording the wear of slewing bearing and maintenance it.
While operating crane continually, periodic checkup of wear of slewing bearing will prevent accidents to confirm whether or not it exceeds the max. allowable deviation.
Measurement of wear
There are two check points including the inside and outside of pedestal, but we'd like to recommend to take the outside check point of pedestal considering safety.
To reduce wear of the inside bearing ball and race, it should be charged with gear oil recommended periodically.
The max. allowable deviation (table 1) are ones for single type slewing bearing.
Table 1: Max. allowable deviation in slewing bearing

Interval of measurement
After delivery of ship, wear of slewing bearing should be checked in the basic three (3) months, and after then, every six (6) months.
Check procedure
When rocking testing, a checkpoint on the pedestal part should be chosen at the place to interference, revolving sideshell or crane.
Measurement position should be chosen at four (4) directions by equivalent degree on the fixed post (pedestal) parts.
If there is restriction of revolving area when the crane revolves, make sure to devide all angles able to revolve into four (4) equal parts.
Extra red paint should be marked on the bolt checked on the fixed post (pedestal).
Record on the check sheet after checking regularly at the same point and direction as equivalent degree marked on the status of no-load and max. working radius of the crane.
The tool (depth gauge) which is used to check can measure like photo of fig. 1.
The result of periodic measurement record should be compared with the max. allowable deviation provided by the manufacturer.
If new check dimension is larger than the prior record wear, the gear oil charging cycle should be short.
Please contact to customer service department if it is measured over the max. allowable deviation of table 1.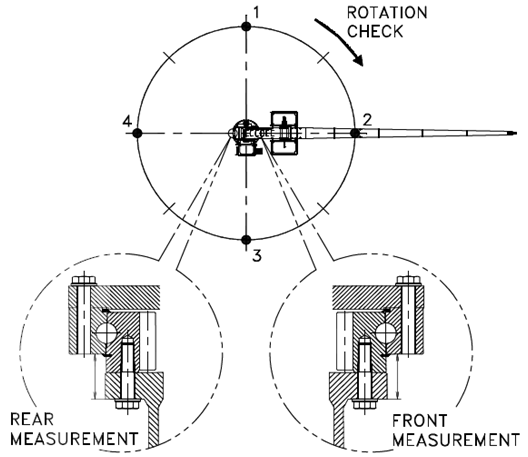 Slewing bearing wear measurement record table