Turbochargers. Structure
In general, the modern turbocharger serves a system known as 'constant pressure charging', and one, or at most two, turbochargers per engine are all that is required. The more complicated 'pulse charging' system used on earlier engines and on some lower powered medium speed engines often needed three or more turbochargers. In the constant pressure system the pressure in the exhaust manifold leading to the turbocharger is virtually steady. That is, the pulses of energy that occur as the exhaust is released  from the cylinder are absorbed in the large volume exhaust manifold so that, at the turbocharger, almost steady flow conditions exist. The pulse system used these pulses to improve the output of the turbocharger, but the system was extremely complicated and best suited to an engine with cylinder numbers that were multiples of three.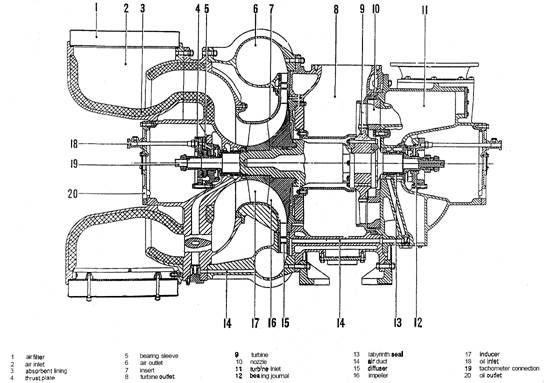 The turbochargers of the constant pressure system operate under more steady flow conditions so the energy conversion of the turbine element is improved over the pulse system. There are many advantages of constant pressure over pulse. Constant pressure systems are now almost universally applied and this section will relate to such a system. Because all units evacuate into a common exhaust manifold the turbocharger itself can be situated anywhere along the manifold to facilitate accessibility and provide easy egress to the engine room uptakes. Because of the enormous strides taken in the development of the turbocharger, facilitated by computer aided design and machining, the modern unit is able to put out adequate air quantities and pressures for a single unit to serve even the larger engines. However, makers or owners sometimes prefer to have two units as a safeguard, so that the engine can still steam on one unit should the other fail and require recovery.
Although turbochargers have improved in performance over the years, their basic construction has remained, until very recent times, when non-water cooled units have appeared.