sales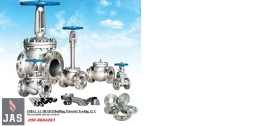 Relation:
Company representative
About
Brief description:
Jabal Al Shams Trading LLC (JAS) is a Dubai based trading company.UAE is the regions hub for all major products that are required in the industries and is ideally located near all major countries of the region giving easy and fast access to our customers.
JAS caters to as Oil & Gas, Marine, ship building/ repair Industries primarily to the Middle East region. We also stock Pipes, Fittings ,Valve & Flanges of approved European, Indian & Korean and Chinabrand manufacturer.
JAS stock and supply fittings that are approved and used in projects for ADNOC,KOC, KNPC, PDO, BAPCO, Aramco and Sabic other government companies.
Products of SK Bend, BKL, TK Corporation, ERNE, TTU,Metalfar, Melesi, VIRAJ,JD,M.E.G.A, L.A.M.E,I.M.L, Bothwell are some of the companies whose products we usually stock.
We supply pipe, flanges, fittings and allied accessories like Gaskets, Stud bolts in various grades of carbon steel, stainless steel, Nickel alloy and titanium.
Address and contact details
Country:
United Arab Emirates